Rainbow Safety have started accepting orders again from today 13th June 2020. Please be aware they will be a lead time of 5 working days for receiving your orders. Sorry for the inconvenience this has caused.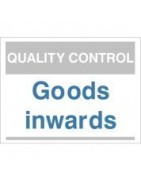 Quality Control Signs
With our range of quality control signs you will be able to label items that have been tested with the appropriate quality control sign.