Due to extreme demand for our range of COVID-19 signs, delivery of orders is taking between 1-3 working days. Please bare with us and we will send out your orders as soon as possible. We apologise for any inconvenience this has caused you.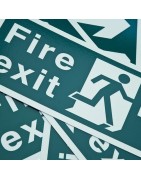 Photoluminescent Fire Exit Signs
Our photoluminescent fire exit signs can be clearly read even in total darkness. These photoluminescent signs comply with current legislation. These signs need to absorb visible light for between 10 and 30 minutes and will glow for more than 6 hours in total darkness.