Rainbow Safety have started accepting orders again from today 13th June 2020. Please be aware they will be a lead time of 5 working days for receiving your orders. Sorry for the inconvenience this has caused.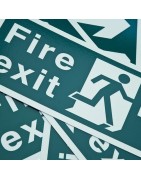 Photoluminescent Fire Exit Signs
Our photoluminescent fire exit signs can be clearly read even in total darkness. These photoluminescent signs comply with current legislation. These signs need to absorb visible light for between 10 and 30 minutes and will glow for more than 6 hours in total darkness.