Due to extreme demand for our range of COVID-19 signs, delivery of orders is taking between 1-3 working days. Please bare with us and we will send out your orders as soon as possible. We apologise for any inconvenience this has caused you.
Rainbow Safety is a brilliant service provider for safety signs for me. The quality of product, speed of service and keen price was amazing. He is such a nice guy to deal with, I cannot recommend him highly enough.

We work for some very good quality hotels in the Cotswolds. Some of them are not the easiest to please when it comes to signs. Rainbow Safety always comes up with the right one at the right price.

Rainbow Safety has always provided detailed & honest advice on his demanding product range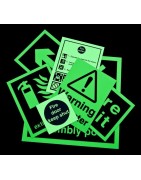 Photoluminescent Signs
Rainbow Safety's range of photoluminescent signs are manufactured in-house, they are designed to be visible even in total darkness. This is essential in smoke filled rooms or where visibility is poor. Our range of photoluminescent safety signs include fire exit signs, fire action signs, fire door signs, fire assembly signs plus many more. If you cannot find the photoluminescent sign that you require then please contact our sales team who will gladly assist you.