Rainbow Safety have started accepting orders again from today 13th June 2020. Please be aware they will be a lead time of 5 working days for receiving your orders. Sorry for the inconvenience this has caused.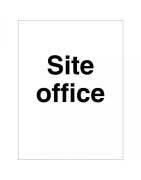 General Construction Signs
General Signs are to show information, to identify areas, or to direct or inform people on general ways. Signs for situations that do not warrant specific site signage.