Rainbow Safety are still open but have minimal staff working. Please allow 3-5 working days for your orders to arrive.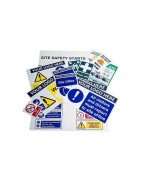 Construction Packs
Construction safety sign packs are a cost effective way to buy warning and information safety signs for your construction site. They contain a range of the required signs, such as keep out signs, fire assembly point signs and no smoking signs and help you save over purchasing these items individually.
Our construction safety sign packs can include your company logo printed on each sign at no extra cost, and our safety signs are designed to comply with current legislation.