Rainbow Safety have started accepting orders again from today 13th June 2020. Please be aware they will be a lead time of 5 working days for receiving your orders. Sorry for the inconvenience this has caused.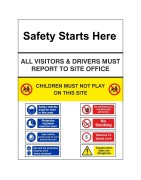 Construction Multi Message Signs
Corporate Signs for Health and Safety around your business, construction site or office locations. We provide Corporate Signage with the option of a sign personalisation service, which can include your company logo at no extra cost.
Our Corporate Signs include Safety Starts Here, Site Traffic, First Aid, No Access, PPE Signs and many more, and are available in a range of sign materials for internal and external use.
These signs are ideal for promoting health and safety at the entrance of your site. They can be designed with your Custom logo at no extra cost. For any logo enquiries please send a PDF or JPEG file with the subject line 'Logo Required' to construction@rainbowsafety.co.uk

This warning sign is available in a range of different sizes and materials.